NBA tunes: Gwiazdy NBA i ich muzyczne upodobania
O tym, co hula na słuchawkach kozaków z NBA pisałem już dawno temu na blogu w dwuczęściowym artykule zatytułowanym Givin you the best I got, jednak w obliczu nowych informacji, jakie udało mi się wyszperać w sieci postanowiłem wrócić do tematu muzycznych zainteresowań graczy NBA.
W poniższym artykule przedstawimy po pięć ulubionych kawałków piątki graczy w osobach Bradleya Beala, Damiana Lillarda, Johna Walla, DeAndre Jordana i Jamala Crawforda. Następnie zapoznamy Was z wynikami ogólnego sondażu dotyczącego gustów muzycznych przeprowadzonego wśród aktywnych zawodników. Zaczynamy!
#John Wall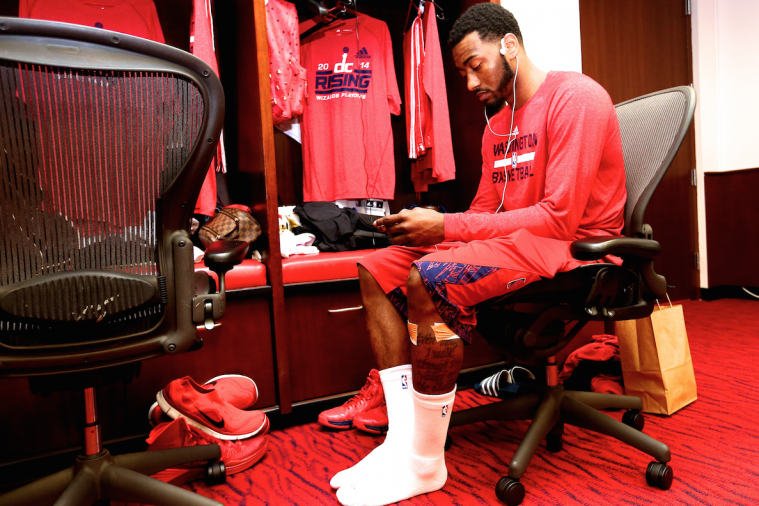 Zawodnik Wizards ma za sobą niezwykle udany sezon. Dobra dyspozycja w wielu meczach była w pewnym sensie skutkiem nastroju, w jaki wprawiały Johna następujące kawałki:
1."Danny Glover (Remix)" Young Thug
2."Live That Life" Lil Durk
3."Ba%g Bros" Lil Durk (myślałem, że Ba%g Bros to raczej filmy przyp. red.)
4."Make Me" Meek Mill
5."What Would You Do (WWYD)" by Rich Homie Quan
Tak przy okazji, John Wall wystąpił ostatnio w reklamie Beatsów, widzieli?
[vsw id="8Y7MLz5SdjU" source="youtube" width="690″ height="420″ autoplay="no"]
#Jamal Crawford
Na słuchawkach specjalisty od 4-punktowych zagrań hulają takie numery:
1."Heaven's Afternoon" Wale feat. Meek Mill
2."Man of the Year" ScHoolboy Q
3."Bit%h, Don't Kill My Vibe (Remix)" Kendrick Lamar
4."Happy" by Pharrell Williams
5."Sky's The Limit" by The Notorious B.I.G.
CZYTAJ DALEJ >>